2017 NFL Draft: Scouting Temple LB Haason Reddick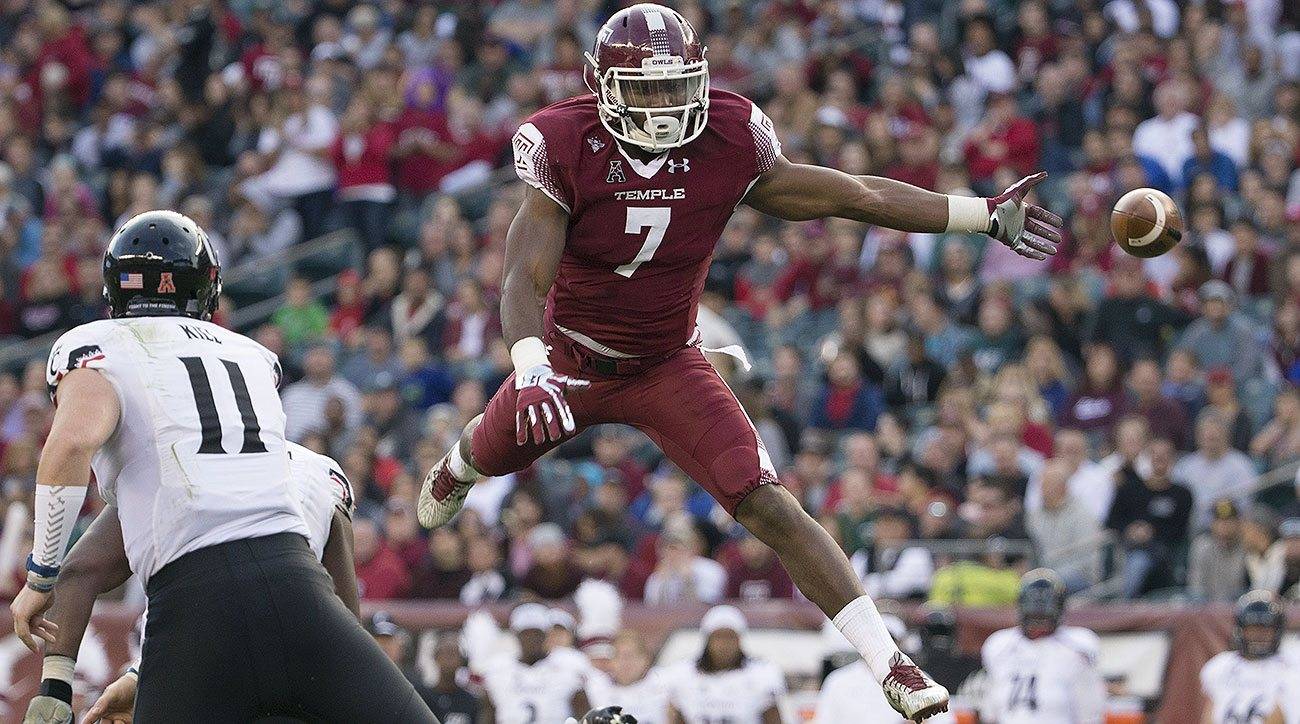 The NFL Combine is a chance for draft prospects to put up the raw numbers that match what teams and analysts see on tape. This was exactly the case for Temple linebacker and EDGE rusher Haason Reddick, who yet again improved his stock after impressing earlier at the Senior Bowl.
Reddick will be a "pet cat" for many fans of the draft based on his versatility and athleticism. Here is his full scouting report.
LB Haason Reddick: Strengths
As a NFL stand up linebacker, Reddick projects best as a WILL. Playing away from the ball, he is as fluid of an athlete as there is in this draft defensively – showcasing elite balance on plays like this in carrying a back up the field.
Haason Reddick will instantly add a burst of athleticism to any front seven come draft night, with the tenacity to win on the edge as well. With his hand in the dirt, Reddick displays adequate lower body strength and drive to win up field before being able to use his arm length and quickness to battle back to the football.
In this next clip, watch the bend that Reddick displays after exploding off the snap and finishing. It is very possible that some teams will grade Haason Reddick as a full time pass rusher because of these traits, but the evaluation there will be hard because of his size compared to other prototypical defensive ends.
LB Haason Reddick: Weaknesses
As a defender in space and pure tackler, Haason Reddick shows some issues with his technique and form. Often getting to the football with an undesirably high pad level, Reddick is forced to make up ground a lot on the plays he cleans up – lunging far too often at the ball carrier.
Even when Reddick gets low and reads his blocks, his lighter frame will sometimes cause him to get pushed away from the ball and out of any practical position to scrape and finish tackles.
Playing speed isn't an issue for Haason Reddick as a WILL linebacker prospect, but he will react late to his keys at the line of scrimmage at times – which limits his full athletic capabilities in breaking down in space and tackling.
LB Haason Reddick: Summary
Haason Reddick is a perfect case study when it comes to the NFL Draft and valuing game tape compared to Combine results. In Reddick's case, his testing backs the positive traits that any team will welcome to their front seven after watching his high motor and constant effort.
Far from perfect on tape though, I don't see the hype surrounding Reddick as a top 20 player in this class – as Haason Reddick instead earns a second round grade on my 2017 NFL Draft Board.
In the right scheme, Reddick's immediate impact will be felt regardless of where he is drafted – with the cover skills to never leave the field at WILL linebacker while giving offensive tackles all they can handle as a pass rusher.