AL East
Bad Blood in Beantown as Yankees-Red Sox Rivalry Heats Up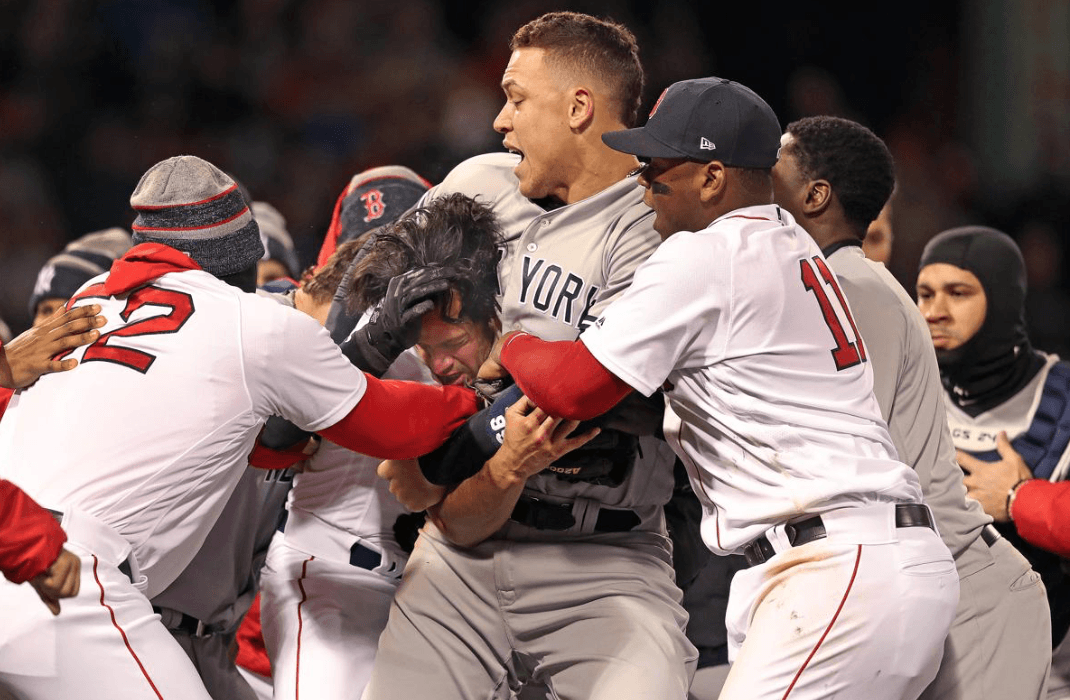 I mean, that really got out of hand fast.
There is quite literally no better way to describe what took place at Fenway Park in Boston Wednesday night than that clip from Anchorman. The rivalry between New York Yankees and Boston Red Sox runs as deep as any. Of course, like most rivalries it slows down at points, only to flare back up. That latest spark came this week during the Yankees 10-6 win over the Sox.
The tension began with the bombers up 5-1 in the top of the third inning. Tyler Wade bunted, attempting to move the runners over.
Red Sox Third Baseman Rafael Devers fielded the ball and fired it to second to gun down Yankee First Baseman Tyler Austin, who collided with Brock Holt's leg sliding through the base.
The benches cleared, but both sides went back to the dugout without things getting out of hand.
The fireworks really kicked off in the top seventh.
The visitors from New York led 10-6 and Joe Kelly was on out of the Red Sox bullpen, looking to keep the game close. With Austin at the plate, Kelly decided to drill him with a 98-mile-an-hour fastball in the back. The hit by pitch was clearly intentional and Austin took exception to it, as he charged the mound and went right at Kelly, who actually welcomed the fight as seen below.
Joe Kelly saying "let's go" is my new spirit animal https://t.co/KKXVXqxUHj
From there the melee followed as the benches cleared.
Aaron Judge and Giancarlo Stanton did their best to restrain both sides, as they seemed to push the pile like two NFL running backs. Honestly, if I saw them both running at me I would run the other way.
CC Sabathia, injured hip and all, got right in the middle too. That's a big guy can be seen put Mitch Moreland from behind in the video below.
CC Sabathia has been putting on mass for decades just for this moment https://t.co/mWXR4mz3GZ
The instant replay really did the fight justice as it caught all the little details within the brawl. Like Aaron Judge holding Joe Kelly in a head lock (shown in this piece's cover image).
It even caught Tyler Austin landing a right hook after getting a hit a few times while on the ground.
T.Austin's conscience: "Superman punch the first person you see not looking in your direction. Tyler Austin: "You sure? It might look real bad for me if it's caught on camera and played in slow motion later tonight." T.Austin's conscience: "Do it." https://t.co/REZ4i92qaJ
Eventually, both sides were broken up and the Yankees went on to take the contest 10-7 to earn a split of the series first two games. The two AL East rivals will have their third meeting of the year Thursday night in Boston.
The most important take away from this game, though, is not that the Yankees got a win to improve to 6-6 on the young season, or that the Red Sox were only dealt their second loss of the year, falling to 9-2. The biggest story line coming out of Wednesday night is that the rivalry may be heating up again after a long running lull in the action.
As a Yankee fan, I have seen this rivalry at its finest and it was an absolute spectacle.
Close games in the head-to-head matchups, classic playoff series, and tension running high. That game brought back memories like these, when the rivalry was at its absolute peak. Wednesday night now joins the ranks of A-Rod vs. Varitek in 2004.
7/24/04: Alex Rodriguez and Jason Varitek fight, leading to both Yankees and Red Sox benches and bullpens clearing Check out http://m.mlb.com/video for our full archive of videos, and subscribe on YouTube for the best, exclusive MLB content: http://youtube.com/MLB About MLB.com: Commissioner Allan H.
…and Pedro vs. Don Zimmer in 2003.
10/11/03, ALCS Game 3: After a close pitch from Pedro Martinez to Karim Garcia, Manny Ramirez takes exception to a Roger Clemens pitch and benches clear. Don Zimmer winds up on the ground. Check out http://m.mlb.com/video for our full archive of videos, and subscribe on YouTube for the best, exclusive MLB content: http://youtube.com/MLB About MLB.com: Commissioner Allan H.
As a fan of these two teams, you can only hope for more nights like this.
It felt like things were building this past offseason with the two teams seemingly in an arms race bringing in marquee names to go toe to toe this season. The trash talking started in spring training with players on both sides chiming in on the other's moves. It feels like Wednesday night is the start of something special between these two this year, as the new blood seems to have revitalized this matchup with young stars like Aaron Judge, Gary Sanchez, Mookie Betts, and Xander Bogaerts the new faces of it.
Going into the season, these were expected to be two of the top teams in the league.
The Red Sox have come flying out of the gate with an excellent start atop the AL East. The Yankees, meanwhile, sit at .500 and are hindered by a host of injuries and slow starts from their big names. There is plenty of time left in the season and the Yankees should fair just fine once they get healthy.
So sit back, relax, and wear come pads, because the rivalry feels back and we may see more of this before the year is out.
The Yankees and Red Sox's benches clear after Tyler Austin slides hard into second with Brock Holt covering the base, then Joe Kelly later hits Austin with a pitch, resulting in tempers flaring again About Major League Baseball: Major League Baseball (MLB) is the most historic professional sports league in the United States and consists of 30 member clubs in the U.S.
To be honest, I hope we do.