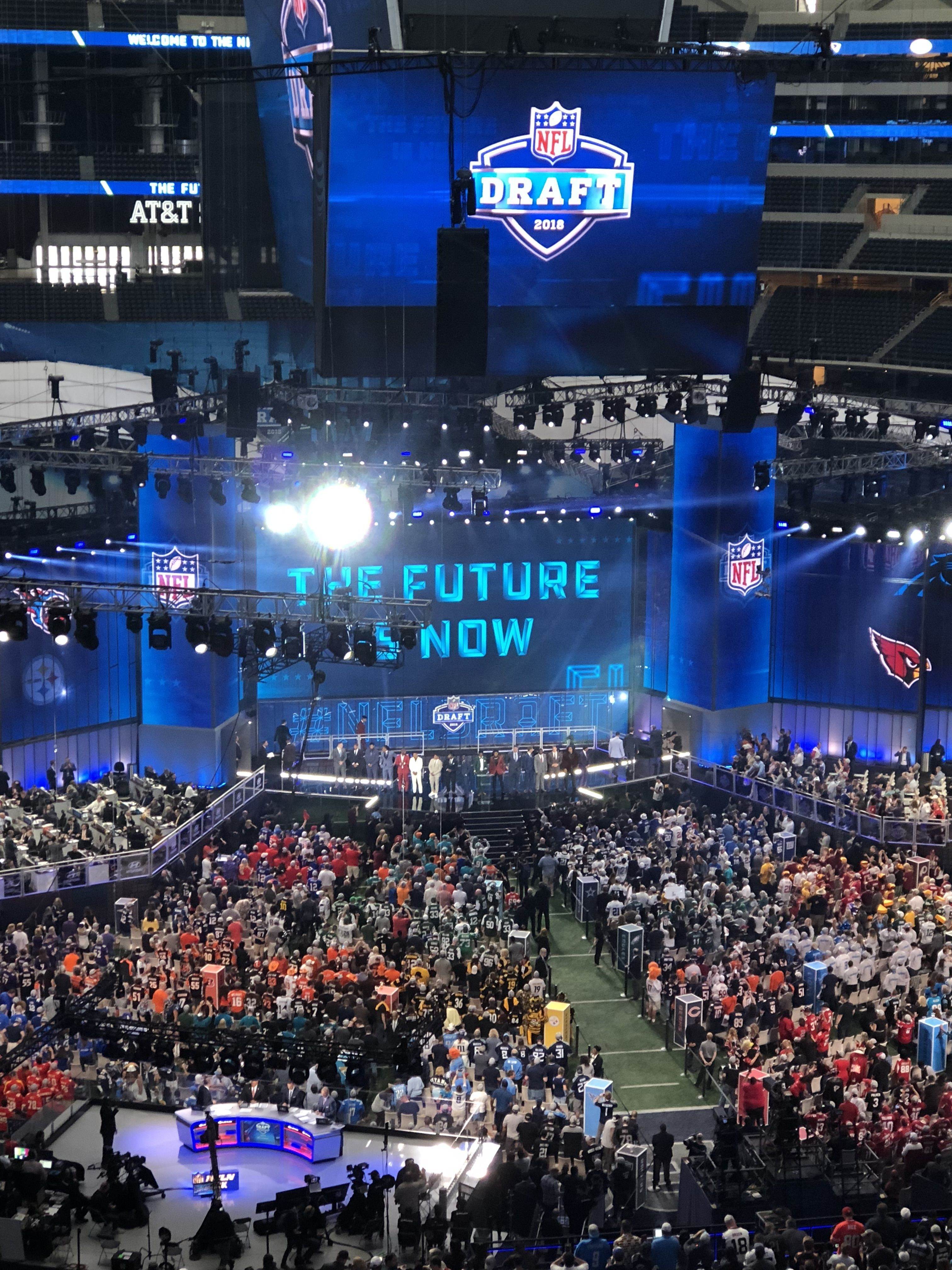 The Indianapolis Colts wrapped up their 2018 draft on Saturday as they came away with six more players from rounds 4-7. The day saw them address both sides of the ball and stick to their plan that was established in the opening three rounds, to add speed and supplement the front seven. Chris Ballard and the rest of the organization seem pleased with the haul they got from Dallas and rightfully so, there is a lot to like about this Colts draft class. We'll break down these new faces by the side of the ball they play on. Here is the complete class courtesy of @Colts on twitter.
exhales* That's a wrap on #ColtsDraft 2018!
Offensive Picks
The Colts' first four picks on Saturday were used on offensive skill players to bolster the talent around Andrew Luck. They made a concerted effort to improve the o-line, not just for Andrew Luck, but for the players running behind the big boys up front. So lets start there with the two running backs Indy selected.
Their first pick of the day was number 104 overall, which they used on NC State speed demon Nyheim Hines. Speed demon doesn't even do his 4.38 combine time justice as he was a flat-out burner that day.
NC State running back Nyheim Hines runs 4.39 40-yard dash at NFL Combine Breaking news: Nyheim Hines is fast. I know, I know, we're all surprised. Hines is in Indianapolis this weekend for the NFL Draft Combine, and he is off to an excellent start after posting a blazing 4.39 in the 40-yard dash on Friday afternoon.
Hines seems to fit the mold of new running backs in the NFL with his ability to run with and catch the ball. He led the ACC with an average of 143.7 all purpose yards and eight plays of at least 45 yards. He's the kind of explosive player the Colts have lacked in their backfield for a while now.
Another important aspect of his game is his blocking ability as he can step in against the blitz and buy time for Andrew Luck. He even made mention of it when speaking to the media.
Nyheim Hines: "I know the guy I'm pass-blocking for is worth a lot of money." Like, $140 million.
Overall, Hines should fit in well with this Colts team and provide some needed big-play ability this coming season. Hines has garnered comparisons to New England's James White, but with some more big-play ability. That's certainly something to get excited about in this offense, especially after the way Frank Reich used his stable of backs in Philly.
Hines wasn't the only running back the Colts took on day three though, as they selected Jordan Wilkins out of Ole Miss in the 5th round (169 overall). Wilkins only started for one year in Oxford but he made a lasting impact as the Rebels' first 1,000-yard back since former gadget man Dexter McCluster. While he isn't overly explosive, Wilkins did average close to seven yards per carry and nine touchdowns as a senior.
Welcome to the family, RB Jordan Wilkins! #ColtsDraft | @jordanwilkins2
He was a senior captain for Ole Miss this past year, so the hope is that he brings that strong character to a locker room in desperate need of it. Wilkins has a lot of nice athletic traits to go with a good frame at 6 feet tall and 215 lbs. He'll have to work hard to stand out in a crowded running back room, but he'll certainly get his chance to fit in. It was wise of the Colts to double down on running back, much like they did at defensive end. Wilkins, who's a lot like Hines, will be fun to watch in the open field and should add punch to this offense.
The Colts weren't done adding offensive weapons though, as they had another pick in hand following the Wilkins pick. They used pick 159 overall on Northern Iowa Wide Out Daurice Fountain.
Fountain is a fun player to add to a barren stable of Colts receivers. At 6 feet tall 210 lbs, Fountain has a strong frame to go with some decent speed, as he posted a 4.46 40 time. He had a very productive senior year with 12 touchdowns in 13 games and 943 total yards receiving.
Welcome home, WR Daurice Fountain! #ColtsDraft | @Reece_JMM
His all around game isn't all the way there yet as he has mostly excelled just on his raw ability. It'll be up to the coaching staff to work with the rookie on his route running in particular, but if he gets there the Colts could have something special. The Colts went back for another WR in the 6th round. This time they picked a wide out from "wide receiver U," better known as Clemson University.
With pick number 185 overall the Colts selected Deon Cain. Cain, based on ability alone, is one of the better receivers in this class. His time at Clemson was hit and miss with up and down play and a suspension in 2015. Based on this highlight pack though, there is clearly some real flash to this player.
Colts select WR Deon Cain with the 185th pick #NFLDraft https://t.co/UJdOiuwQNE
Cain comes with some rumors of off-field baggage but the reward far outweighs the risk here. The Colts probably got him three rounds after his projected value, so why not take a flyer on him? If Cain shows up and performs at a level similar to his better days in "Death Valley" then the Colts are getting a big-play weapon for Andrew Luck to stretch the field with.
This could be yet another pick that sees quick returns for the Colts next season as Cain looks to follow in the footsteps of other Tiger greats like Sammy Watkins and DeAndre Hopkins.
Defensive Picks
The Colts spent their last two picks of the day on a pair of linebackers, a position they were extremely thin at entering the offseason. They acquired pick 221 from the Jets after they traded defensive lineman Henry Anderson to New York. With 221 overall Indy selected Houston Linebacker Matthew Adams.
Adams plays inside at a spot where he should take part in some much-needed competition. Competition on this roster has been something Chris Ballard has preached since his arrival, so this pick seems to fit right in with his ideals. He was also a leader during his college career, to go along with some of the other 2018 picks…
Colts get talent and leadership in 2018 draft: * G Quenton Nelson (Notre Dame): 2017 captain * G Braden Smith (Auburn): 2017 captain * DL Tyquan Lewis (Ohio State): 2-time captain * LB Matthew Adams (Houston): 2017 captain * LB Zaire Franklin (Syracuse): 3-time captain
Which leads us into our next and final pick for the Colts as they picked Syracuse Linebacker Zaire Franklin.
Franklin will bring many of the same things Adams provides in terms of depth, competition, and strong character. As I mentioned earlier, it seemed like the Colts locker room really fell apart last year, and while losing does that, the Colts haven't enjoyed much in the way of leadership since Reggie Wayne retired. Ballard is clearly seeking to effect some change in the room with a new core that can establish a new culture.
Final Takeaways
Overall, I think the Colts came away with a strong draft class. They addressed this team's biggest needs with big time help on the offensive line and a lot more nastiness up front on defense. I've seen some fans voice displeasure with a fair amount of these picks, and of course they are entitled to that opinion, but this draft has to stay in perspective.
Yes, as a fan of this team, I want to see it add flashy players and get back on top in the near future. But they cannot rush this rebuild and make no mistake, that's what this is. To borrow a line from the Philadelphia 76ers, the Colts have to "trust the process" here and build this team properly. That starts in the trenches and then creating an identity, in this case as a fast and athletic team that thrives on its domed home field.
To wrap things up I'd like to say it was an honor and privilege to bring you coverage of this 2018 NFL Draft straight from Dallas. I've always dreamed of being at the draft and it became a reality this year. I got to work alongside some terrific professionals I have respected for many years and, of course, done it all with my friend and scouting partner Sean Martin beside me. I hope to do this again someday and I hope you all enjoyed the articles I got out there for you.
Before you know it, training camp will be here and opening Sunday not far behind. The Colts will start fresh with a new and exciting cast of characters… and hopefully a familiar face making a much-anticipated return.
Enjoy what's left of the offseason everyone, we're in for a fun year. Something special is going on with this group in its rebuilding phase and these are the days you will remember when this team returns to the top. So, thank you for the support, conversation, and debate during this draft process.